A nautical chic yacht interior...
A nautical chic yacht interior is one of the most beloved design looks, one that can capture the magic of the sea, the allure of the ocean, the emotion of a sun-kissed day, and bring it all into our interior space. Timeless in its popularity, coastal style has spanned generations – many of us can recall childhood days at Grandma's house by the shore where starfish knick knacks and be-shelled mirrors set the tone for never-ending days marked by sandy toes and taffy treats.
For years, however, the implementation of anything nautical within a yacht's design was a bit of a faux pas. Considered tacky or excessive, nautical decor was left to the subtleties – a reference to coral on a pillow; a mother-of-pearl inlay, or perhaps a simple rope or line accent on a salon's lamp.
Such was the conversation when I met with the new owners of the 161' Trinity yacht Stay Salty to discuss the complete interior and exterior refit of their new yacht. Planned as an escape for the whole family to enjoy, the yacht was a means for family connection and bonding while exploring and discovering the beauty of the sea and the world. The owners requested an interior design that was chic and nautical in nature – a coastal home theme that evoked that day-at-sea emotion while being true to the sophisticated nature of the yacht itself.
Coastal style is best when it's limited and edited, so exercise restraint and use a tempered touch with these simple tips:
Nautical and coastal styles celebrate the sunlight and beautiful vistas just as a yacht itself does. Take advantage of the natural nautical beauty surrounding the vessel and keep window treatments simple, light and airy.
One of the easiest and most beautiful natural elements that many forget about is sunlight. Natural daylight can make a room come alive; it enhances colors and makes people feel healthy and inspired.
A simple, elegant and impactful way to illuminate a space and connect with the surrounding views of the ocean is by using large, expansive windows and doors. This maximizes space and light, allowing for panoramic sea views for all to enjoy.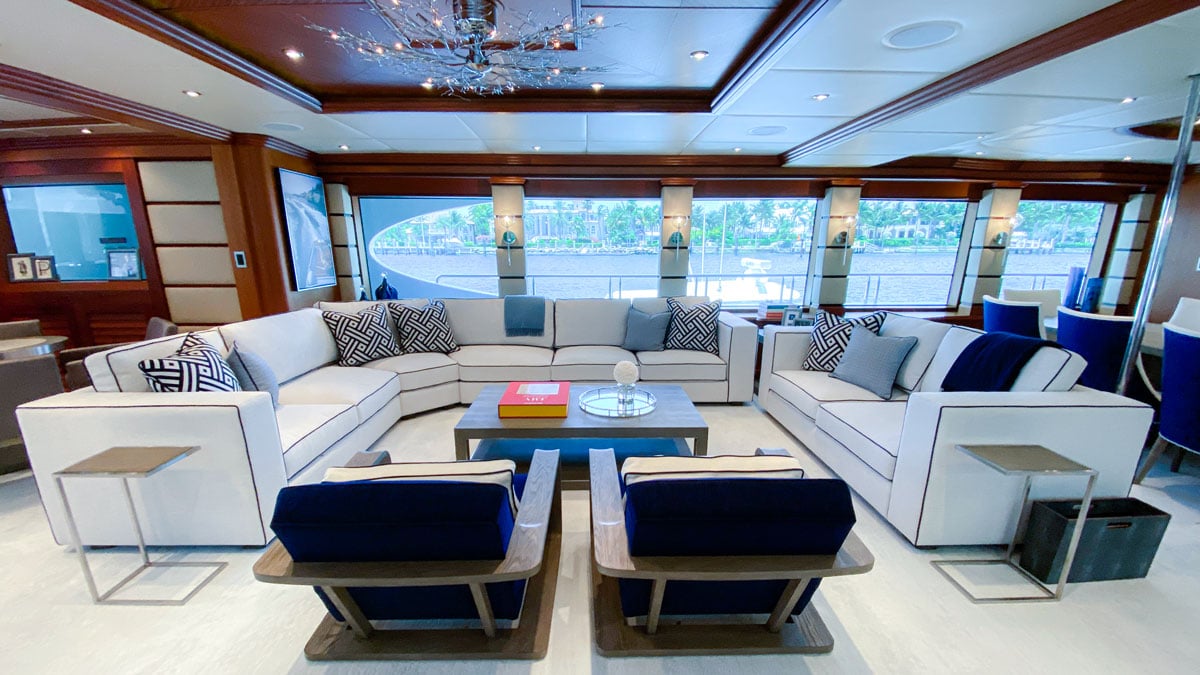 Wood tends to reside in the neutral category, so it's relatively easy to mix wood tones to achieve a visually pleasing result that is both chic and intentional.
The interior of Stay Salty had a lot of heavy, orange-toned wood. Since we did not have time during Phase One of the project to change or cover the wood, we went for contrast and brought open grained, satin-finished gray-toned woods inspired by driftwood and warm soft sands into the main and bridge decks.
Nautical chic yacht interior ACCENTS
The outdoor environment has identifiable layers. At the beach, you have the contrast of coarse shells and sand, smooth palms and tranquil water. Mixing different finishes and textures create interest, depth and definition and builds an engaging layered look that recreates the beach experience.
Aboard Stay Salty, we created a sophisticated resort-style retreat full of soul with timeless patterns, colors and decor that complements a maritime style. We thought beyond blue and embraced all the colors of the coast in various areas throughout the yacht. From warm sands, driftwood grays, crisp sailboat white and watery sea blue, to turquoise sea glass, deep turbulent ocean navy, bright coral and sunset orange, when incorporated with restraint these colors subtly convey the emotion of the sea. Using the nautical/coastal concept as the anchor of the design, incorporate natural and textural elements reminiscent of rope, abaca, rattan, seagrass and jute and sand – without being too literal, of course!
When it comes to accessories, be abstract and create a mood other than being too literal. Look for accessories that mimic organic shapes and imitate objects you would find at the beach.
Here and there, it's ok to be bold with a classic maritime look. In the main salon, we incorporated modern, classic, sophisticated and slightly preppy high-contrast navy and white with clean lines. In both the main salon and skylounge, we combined subtle stripes, geometrical patterns, color banding and blocking and contrasting textures. That classic maritime look extends to the exterior, with pillows designed to be reminiscent of signal flags.
When incorporating nautical chic, don't forget the touch of whimsy! Aboard Stay Salty, fun in the sun is captured by a selection of colorful vintage photography and pop art throughout.
In the skylounge, we emphasized a more organic and playful feel, keeping the focus on this being a space to reflect the fun and rejuvenation of travel to coastal destinations with family and friends. Here, we kept the neutral white base and navy punctuated with additional classic blue shades and pops of coral and bright saturated colors evoking signal flags.
We went with a bit of a relaxed island vibe in the staterooms, evoking the sea and its elements. Bold art stands out against the more subdued and calming colors and pattern.
In short, when creating a nautical chic yacht interior, remember to be subtle, be classy and have fun!